Discover Weekly 
Interview With Pina Passarelli, ANFIBIO  
As part of my initiative to showcase the diversity of local brands, I invite you to discover Anfibio's Canadian manufactured handcrafted genuine waterproof leather winter boots for women and men.  

           —By Andrew McNally
Anfibio by Pina Passarelli
What is the story behind the brand and how would you describe it? Founded in 1968, the company was launched under a different name, De Luca Shoes, where we were only producing men's shoes at the time, specifically handmade moccasins. However, in the 1980's, we rebranded and shifted the focus to the outdoor category where we became Anfibio Boots Co. – exclusively producing high-quality, genuine full grain leather waterproof winter boots, for both men and women. At that time, we were the first shoe manufacturer to introduce a certified waterproof leather boot in Canada. We were excited by the idea of creating a brand that could be something special, unique and uncompromised.

Created to keep people warm and protected from the cold weather, Anfibio produces handcrafted, genuine waterproof leather winter boots that are made to last. We are a quintessentially authentic Canadian footwear and accessories brand characterized by functional versatility, a minimal, modern aesthetic, exceptional materials and classic handmade construction, which strike that beautiful balance of all at once forward thinking and timeless.

What is your creative process? We are a people brand where we always begin developing our designs by imagining what customers will say when they see and try on our boots for the first time. Having a close relationship with our clients, we like to use their feedback for direction during our brainstorming sessions with our team to kick start the creative process. We always aim to push ourselves creatively and embrace things that scare us, whether it's a new construction process, aesthetic details, material, outsole or colourway.
What has inspired your latest collection? is your creative process? The Fall/Winter 2020 collection is a highly curated labour of love, featuring a ​variety of styles made with functional versatility and a no-frills aesthetic. Everything from normcore to utilitarian to unisex and, of course, authenticity. This collection concentrates on utility by introducing silver fastenings and restrained decoration, as shown in the Jaxton and Madi boot. Sporty-style soles, such as in the Lukas​, Kiara and Genia styles, are another attribute specific to this year's collection, creating the perfect balance between comfort and agility. Made with premium materials such as full grain waterproof leather, the finest Italian suede, natural wool and plush genuine shearling lining, the footwear is designed for the quintessential Anfibio wearer; committed to comfort, style, protection and durability.
What are your influences? Climate, people, architecture, minimalist art & style.
What is your signature piece?​ Our signature is translated through our use of premium materials, Canadian manufacturing and clean design. Anfibio was the first boot brand to introduce waterproof leather and inner zipper in Quebec 30 years ago. We consider this as being part of our DNA and signature touch. Deliberate aesthetic elements are integrated into our footwear and accessories which have all become emblematic to our styles: the lace-up paired with an inner zipper feature, decorative stitch details, and unique outsole designs.
Who are the Anfibio woman and man? We believe that ​people in the world today want real things: boots that last. We also believe consumers want to support authentic brands, a quintessentially Canadian product — that is made 100% in a factory here in Montreal. Our typical customer profile is comprised of male and female, aged 24-64. Anfibio Boots are winter boots that are practical in terms of functionality because of their high-quality craftsmanship and noteworthy authentic styles. In terms of personalities, our customers are creative, professionals, discerning and want a good balance between functionality and style.
What is your fondest fashion memory? Growing up, I remember imitating my mother's style in every possible way. From stepping into her beautiful red pumps that would make me feel on top of the world to wearing her gorgeous dresses that would make me feel like a princess, my mother truly shaped my fashion sense. The memory of her is my fondest memory related to fashion.
How are you coping with COVID? With Made in Canada solutions and our 360 business model, we are fortunate to employ talented local bootmakers and artisans, and also be able to produce locally without having the need to rely on offshore supply chains. Anfibio is one of the last shoe factories that is still up and running in Canada. This advantage enables us to have control over our product development, production and shipments across Canada. ​We have also shifted our thinking process and are today ​navigating by focusing on immediate priorities ​while ​communicating frequently and clearly with employees and are leading with compassion and protecting our people during these unprecedented times.
On a different note… which book is on your nightstand at the moment? "Parce ce que je t'aime" by Guillaume Musso and ​"Harry Potter and the Philosopher's Stone" by J. K. Rowling.
Which song are you listening to over and over? "La vie en rose" by ​Édith Piaf.
Which television series are you binge-watching? "My Brilliant Friend", which is based on incredible books written by ​author Elena Ferrante.
What is your favorite recipe of the moment? Ravioli with spinach and ricotta cheese filling with pistachio pesto.
And which movie inspires you? "​The Pursuit of Happiness", directed by Gabriele Muccino, which is a 2006 American biographical drama.
---
Entrevue avec Pina Passarelli, ANFIBIO  
Dans le cadre de mon initiative ayant pour but de faire découvrir la diversité de marques locales, je vous présente aujourd'hui les bottes d'hiver en cuir véritable imperméables pour femmes et hommes, fabriquées ici même à Montréal, de la marque Anfibio.   

           —Par Andrew McNally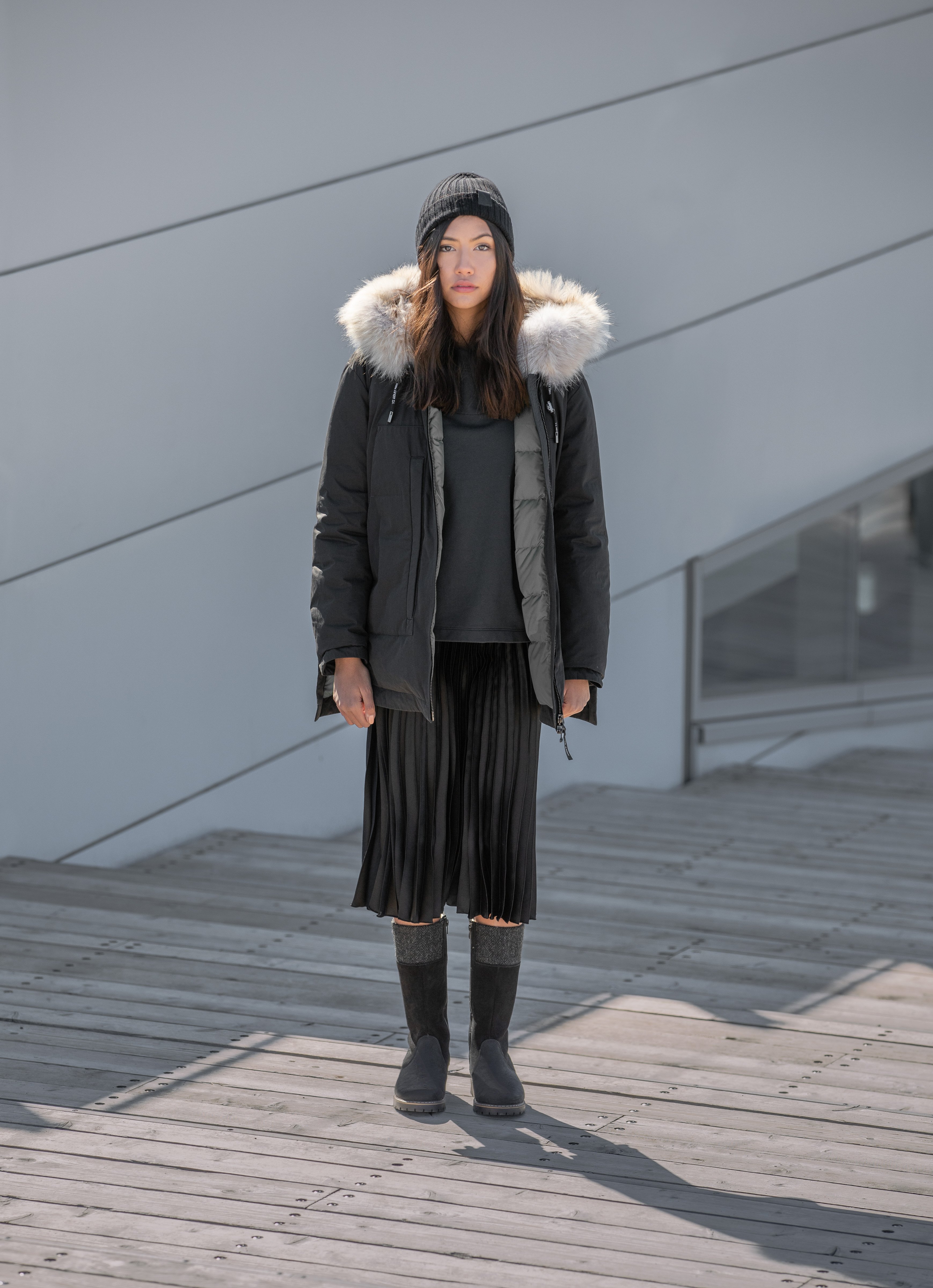 Anfibio par Pina Passarelli.
Comment est née votre marque et comment la décririez-vous ? Fondée en 1968, la compagnie a été lancée sous un autre nom, De Luca Shoes, où nous ne produisions alors que des chaussures pour hommes, plus précisément des mocassins faits main. Cependant, dans les années 1980, nous avons redéfini notre identité et nous nous sommes concentrés sur la catégorie des chaussures de plein air, où nous sommes devenus Anfibio Boots Co., produisant exclusivement des bottes d'hiver imperméables en cuir pleine fleur de haute qualité, pour hommes et femmes. À cette époque, nous étions le premier fabricant de chaussures à introduire une botte en cuir imperméable certifiée au Canada. Nous étions heureux à l'idée de créer une marque qui pourrait être quelque chose de spécial, d'unique et sans compromis.
Créée pour garder les gens au chaud et les protéger du froid, Anfibio produit des bottes d'hiver en cuir véritable imperméable, fabriquées à la main et faites pour durer. Nous sommes une marque de chaussures et d'accessoires canadiens, caractérisée par une polyvalence fonctionnelle, une esthétique minimale et moderne, des matériaux exceptionnels et une construction classique faite à la main, un bel équilibre à la fois avant-gardiste et intemporel.
Parlez-moi de votre processus créatif ? Nous sommes une marque axée sur l'individu ; nous commençons toujours à développer nos modèles en imaginant ce que les clients diront quand ils verront et essaieront nos bottes pour la première fois. Ayant une relation privilégiée avec nos clients, nous aimons nous inspirer de leurs commentaires lors de nos sessions de remue-méninges avec notre équipe pour lancer le processus créatif. Nous cherchons toujours à nous stimuler de manière créative et à intégrer les choses qui nous font peur, qu'il s'agisse d'un nouveau processus de construction, de détails esthétiques, de matériaux, de semelles extérieures ou de combinaisons de couleurs.
Qu'est-ce qui a inspiré votre nouvelle collection ? La collection automne-hiver 2020 est composée d'une variété de styles célébrant la polyvalence fonctionnelle et une esthétique sans fioriture. Tout y est, du "normcore" à l'utilitaire en passant par les modèles unisexes. Cette collection se concentre sur la fonctionnalité en introduisant des fermetures en argent et une décoration sobre, comme le démontrent les bottes Jaxton et Madi. Les semelles de style sportif, comme dans les styles Lukas, Kiara et Genia, sont un autre attribut spécifique à la collection de cette année, créant un équilibre parfait entre confort et agilité. Fabriquées avec des matériaux de première qualité tels que le cuir imperméable pleine fleur, le meilleur daim italien, la laine naturelle et la doublure en mouton véritable, les chaussures sont conçues pour l'expérience Anfibio ultime ; un engagement en faveur du confort, du style, de la protection et de la durabilité.
Quelles sont vos influences du moment ? Le climat, les gens, l'architecture, l'art et le style minimalistes.
Quelle est la pièce signature de votre marque? Notre signature se traduit par une utilisation de matériaux de qualité, une fabrication canadienne et une conception soignée. Anfibio a été la première marque de bottes à introduire le cuir imperméable et la fermeture éclair intérieure au Québec, il y a 30 ans. Nous considérons que cela fait partie de notre ADN et de notre signature. Des éléments esthétiques sont volontairement intégrés dans nos chaussures et accessoires et sont devenus emblématiques de nos modèles : les lacets associés à une fermeture à glissière intérieure, des surpiqures décoratives et des semelles au design unique.
Qui sont la femme et l'homme Anfibio? Nous croyons que les gens dans le monde d'aujourd'hui veulent des choses concrètes : des bottes qui durent. Nous considérons également que les consommateurs veulent soutenir des marques authentiques et un produit typiquement canadien, qui est fabriqué à 100 % dans notre usine de Montréal. Notre clientèle type est composée d'hommes et de femmes, âgés de 24 à 64 ans. Les chaussures Anfibio sont des bottes d'hiver qui sont pratiques en termes de fonctionnalité grâce à leur haute qualité de fabrication et à leur style original remarquable. En termes de personnalité, nos clients sont créatifs, professionnels, perspicaces et veulent un bon équilibre entre fonctionnalité et style.
Quel est votre plus beau souvenir relié à la mode ? Je me souviens avoir imité le style de ma mère de toutes les manières possibles. Qu'il s'agisse d'enfiler ses magnifiques escarpins rouges qui me faisaient sentir au sommet du monde ou de porter ses magnifiques robes qui me faisaient sentir comme une princesse, ma mère a vraiment façonné mon sens de la mode. Son style est mon plus beau souvenir lié à la mode.
Comment relevez-vous les défis de la COVID ? Grâce à notre confection "Fait au Canada" et à notre modèle commercial 360, nous avons la chance d'employer des bottiers et des artisans locaux talentueux, et de pouvoir produire localement sans avoir besoin de recourir à des chaînes d'approvisionnement à l'étranger. Anfibio est l'une des dernières usines de chaussures encore en activité au Canada. Cet avantage nous permet de contrôler le développement, la production et les expéditions de nos produits dans tout le Canada. Nous avons également modifié notre processus de planification et naviguons aujourd'hui en nous concentrant sur les priorités immédiates tout en communiquant fréquemment et clairement avec nos employés. Nous dirigeons avec compassion et nous protégeons notre personnel en ces temps sans précédent.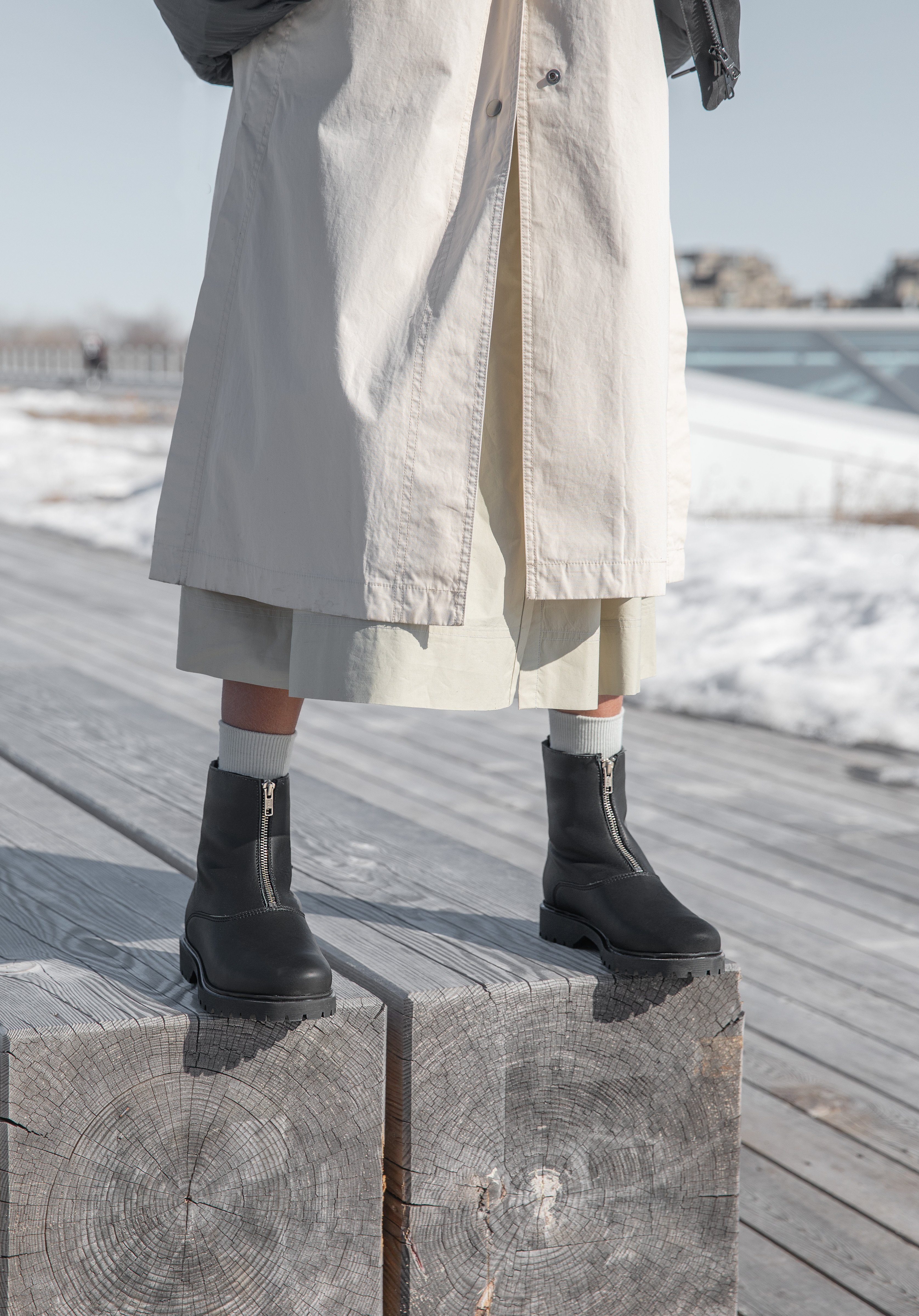 Sur une note différente… quel est le livre sur votre table de chevet? "Parce ce que je t'aime" par Guillaume Musso et ​"Harry Potter à l'école des sorciers" par J. K. Rowling.
La chanson que vous écoutez en boucle? "La vie en rose" par ​Édith Piaf.
Une télésérie que nous devrions visionner en rafale? "My Brilliant Friend", qui est basée sur des livres incroyables écrits par l'auteur Elena Ferrante.
Votre recette du moment? Des raviolis aux épinards et à la ricotta nappés d'un pesto de pistaches.
Et un film qui vous inspire? "À la recherche du bonheur", réalisé par Gabriele Muccino, qui est un drame biographique américain de 2006.
FOR MORE CONTENT ON CANADIAN TALENTS,
FOLLOW ANDREW ON INSTAGRAM & FACEBOOK!
Want to discover more Canadian brands? Click here.  
Written on: January 20, 2021