The Van Man:
PHILIPPE LEBLOND
WHAT HAPPENS WHEN YOU GET RID OF YOUR HOME AND ALL OF YOUR BELONGINGS TO EMBRACE A NOMADIC LIFESTYLE … IN A VAN?.
—By Philippe LeBlond
I'm writing from Joshua Tree right now and tomorrow I'll be driving off to Grand Canyon and then moving on to Utah. I was born in Quebec and have travelled for many years. After ten years of working in the fashion industry as a model and living in multiple cities, including Milan, Paris, Hambourg, Barcelona,London, and NY, I decided it was time for a change.
I got rid of my apartment in NY and bought a van (instead buying a sports car) for my 30th birthday. I built the inside myself (I worked as a carpenter in Montreal before modelling) and am now living in pure freedom. I made my van super comfy. It has everything I need — including a memory foam, stove, cooler, propane heater, surfs, a snowboard, and a crash pad for climbing.
It all started as a kid. I began going on road trips with my dad when I was really young. He taught me how to camp, how to cook on a fire, and, pretty much how to live outside. He also lived in a 36ft RV for couple years so I think I inherited this lifestyle from him!
People quickly began saying I was lucky to be living the dream but it was all about my decisions.
My mom always taught me that we are spiritual beings having a human body experience and not human beings have a spiritual experience. Along my trips I read a lot of spiritual books and learnt a lot about life and positive energy through reading and meditation. The simple thought of less is more came into my life. I decided to get rid of my apartment in NY and go back to Cali (my favourite city to live in so far because I can surf, snowboard, rock climb, and take road trips to see many different landscape in just a few hours distance).
I started a road trip from LA to Vancouver and stopped at every national park on the way up and came back on the coast. It was 4500 miles and it took one month. After that road trip I was hooked andI couldn't even think about renting a place and living between four walls. My van is the biggest source of freedom I've ever had. I have a super comfy bed,my closet,my surfboards, snowboards and everything else I need to be happy. I can wake up anywhere I want with this amazing tiny house on wheels. I also found a parking spot in LA where my tires touch the sand so I can wake up on the beach when I have to be in town. As soon as I don't have a casting or job on a Monday or a Friday I take those two extra days for a four day road trip.
Food wise, while I'm on the road, I will always buy food for two or three days in advance while thinking about breakfast,lunch,and dinner. I always opt for healthy choices and I have options in my cooler with some dry food for when I'm driving.
When it comes to driving, I usually try to nail it early in the morning. I usually wake up around the same time the sun comes up. I'll drive early morning and stop where ever I want to take pictures or enjoy the location as much as I can.
I also have to think about where I'm going to park for the night for at least an hour before the sun goes down. I'm always looking to find a spot with water. Sometime I'm really lucky to find a parking spot by a river or lake but other times it's a struggle because some places have rules or laws which make it illegal to park.
Living in a van teaches you a lot about life, survival, connecting with your senses, and nature. It also teaches you how to appreciate the small things. I don't really appreciate the system we live in. They teach you to work for someone all your life instead teaching us how to truly live life.
Traveling is the only thing you can buy that makes you richer.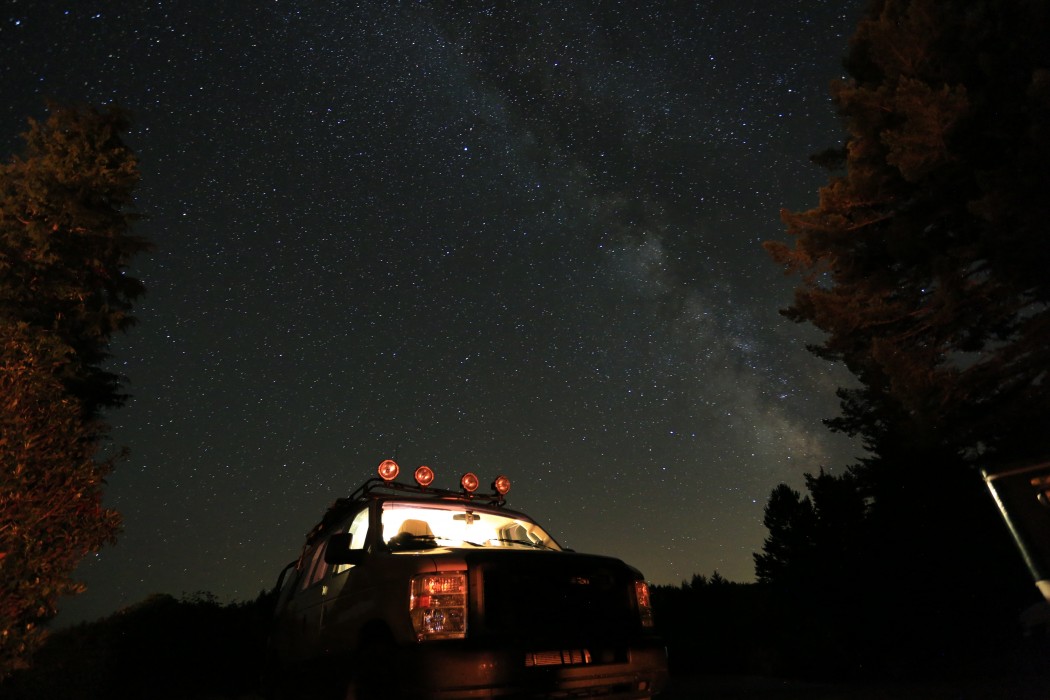 Written on: November 21, 2016