The year of 
Sarah Gadon
The world is about to become very familiar with the name Sarah Gadon. In addition to promoting her newly released film, indignation, earlier this summer, and the imminent release of the 9th life of Louis Drax, out this September, the Canadian actress has also been busy working on two other projects-with some of Canada's most recognized and acclaimed filmmakers and producers, in a year where Canada made its way into the international spotlight, something tells us Gadon is on the verge of worldwide superstardom, too.
-By Angelic Vendette
 Photographer Andrew Soule
Fashion Editor Randy Smith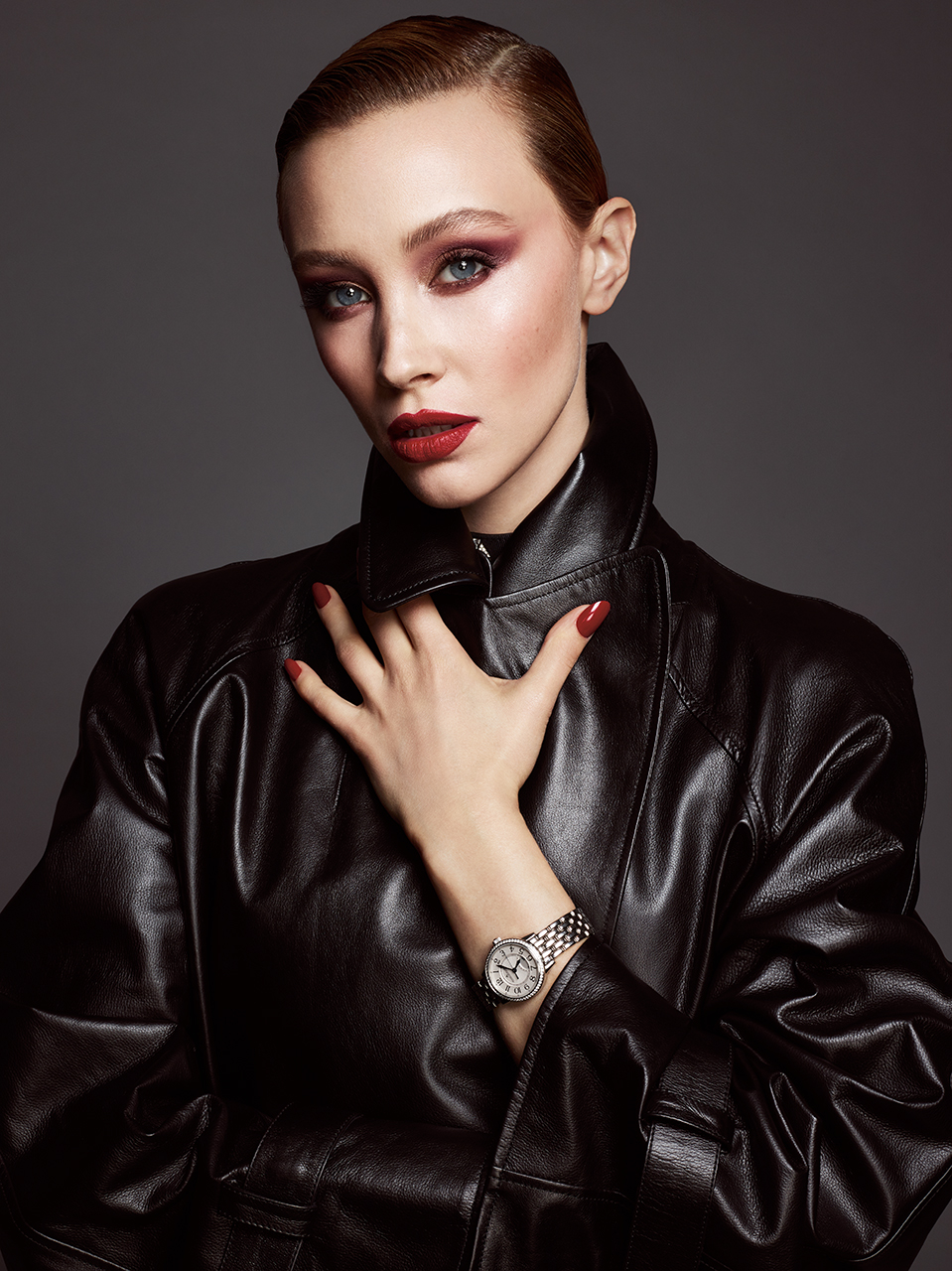 Jacket CHANEL . Watch JAEGER-LECOULTRE Rendez-Vous Night & Day.
As I walk into the room to meet with Gadon just as she wraps up shooting our Fall editorial, I am greeted with a hug and a smile, as though a full day of modelling and playing dress-up for us is a breeze – something any model, let alone actress, would find exhaust-ing. The 29-year-old actress is as beautiful in person as she is on screen. Without any makeup, and with her hair pulled back into avery tight and heavily hair-sprayed chignon- what I believe to be the residuals of her look on set – she tells me her personal style is effortless,almost excusing her editorial-looking hair. "My style is really simple. I like things that are classic, with a slight twist that is unexpected," she says, illustrating her point with her Isabel Marant sweater, that looks unassuming until she pulls at the side slit that runs more than half way up her shirt.
Classic with a slight twist of the unexpected something I could just as easily use to describe the talented Gadon herself.
The Toronto-born, Toronto-based artist, who began her acting career as a child, is a classically trained performer. Having studied both dancing and acting, Gadon completed her studies at the University of Toronto's Cinema Studies Institute, which only reinforced the dedication she has to her craft. Gadon has already proven herself to be one of Canada's most talented young actors, playing in an array of different roles and film genres. Her first role was in the Canadian television hit Nikita,at the age of only 10. She has since appeared in major projects, from David Cronenberg's Cosmopolis and A Dangerous Method, to major blockbusters like Dracula Untold and The Amazing Spider-Man 2. More recently, she appeared in A Royal Night Out, portraying a young Elizabeth II.
This year alone, Gadon plays James Franco's love interest in the Hulu adaptation of Stephen King's miniseries 11.22.63, as well as appearing in the American drama Indignation,which was received to critical acclaim earlier this summer. She is also going to appear in the supernatural thriller The 9th Life of Louis Drax (scheduled for release on September 2), which is based on Liz Jensen's best-selling novel of the same name. And as though her schedule wasn't booked enough already,I caught up with the rising star to talk about her upcoming projects, which she has already begun shooting.
"I am about to go back to camera. I am going to Montreal next week to shoot John Donovan!" the actress says eagerly. And understandably so, as The Death and Life of John F.Donovan marks the English-language debut for the filmmaking prodigy Xavier Dolan. "I am so proud of Xavier. I love his films, and I am so happy that I can be a part of his first English film. Xavier is very special, and so I'm excited."
At this point, I can tell that she is as proud of our homegrown talent as we are. I ask her how important it is for her to work with Canadian directors and producers, and seeing how involved she's been in the past with ACTRA, I am not one bit surprised by her answer, but am humbled by how seriously she takes our industry this side of the border.
I love it. I love working with Canadian directors. They're the best, they are incredible.We have so many great talents coming out of this country. I am really interested in what people are doing here recently. I feel like Toronto is having a renaissance and Canada is emerging as a very interesting country right now. From a political perspective and socio-cultural perspective, as well. So I am very interested in working with my colleagues and my peers here." She goes on to talk about another upcoming project with Canadian cinema superstar Sarah Polley. "After shooting The Death and Life of John F. Donovan,I am going to do a Netflix 6-part mini-series based on the Margaret Atwood novel Alias Grace … I am also very excited about working on Alias Grace because Sarah Polley is executive producer and writer, and Mary Harron is directing it. They (Polley and Har-ron) are just two powerhouse women now working in the industry; they are two very intelligent, very talented, well-respected women, and it's so awesome that they're from Canada, as well." The petite actress is refreshingly candid about how excited she is to stay and work here in Canada. I can't help but want to see even more of her in film,even though she is clearly showing no sign of stopping.
Case in point, aside from acting, and taking her first stab at directing, with Reelside,Gadon is also a rock-solid model. At only 5ft 2, she has been the face of both Armani makeup and, more recently, Jaeger-LeCoultre watches. Jaeger-LeCoultre asked Gad onto participate in a special campaign based in New York last year, where the actress embodied old Hollywood charm à la Grace Kelly, which fittingly enough spoke to her own style. "I gravitate towards classic silhouettes and classic styles because they are tried, tested, and true. I genuinely prefer the pieces in my closet that I can wear time and time again. That's what I love about Jaeger-LeCoultre watches." I can tell she genuinely likes wearing the pieces. "You can wear them with jeans, you can wear them with an evening gown, you can wear them with a chunky knit sweater or even a sundress, and they will definitely stand the test of time. Their pieces can transcend any outfit, and that's what I love most about a timeless watch from Jaeger-LeCoultre." The blonde actress unpretentiously continues, "It is great to be part of such a prestigious brand – I just love all their pieces."
The name Gadon is about to explode, and the fact that this seems to be unbeknown to her only reaffirms her celebrity-in-the-making status. I can tell I'm speaking with Canada's next "it" girl, not to mention Hollywood's, as she enumerated the various projects that she has already been a part of, and that she is currently embarking on. I close our conversation, as naturally as if two girlfriends were chatting, by asking about how she dresses for the red carpet. Instead of answering, Gadon tells me about how odd she feels being there – almost as though she were subconsciously talking about her newfound stardom: "It is a bizarre experience being on a red carpet. Nothing about it is normal and I feel very surreal, almost like a fish out of water." She smiles, though, and finishes with: "I'm learning to have fun, and to enjoy it."
 Photographer Andrew Soule
Fashion Editor Randy Smith
Hair Tony Masciangelo
Makeup Anna Nenoiu using GIORGIO ARMANI BEAUTY
Nails Naomi Misu
Photography Assistants Spencer Robertson and Mori
Written on: January 30, 2017