FOUNDED IN 2011, MONTREAL BORN AND RAISED LEIGHTON JAMES AND CHRISTIAN SRIGLEY CAPTURED FAME QUICKLY AS THE ELECTRONIC DANCE DJ DUO, ADVENTURE CLUB. DUE TO THEIR DEEP LYRICS, UNIQUE SOUND AND ORIGINAL BEATS, MIXED WITH STRONG BRANDING, AGGRESSIVE SOCIAL MEDIA TACTICS AND A LOYAL FANBASE, IT IS NO SURPRISE THAT JUST A FEW YEARS LATER THEY HAVE RELEASED NUMEROUS NUMBER ONE SINGLES, PLAYED SOME OF THE LARGEST MUSIC FESTIVALS WORLDWIDE AND MOST RECENTLY RELEASED THEIR FIRST ALBUM, RED//BLUE, WHICH DOMINATED THE DANCE MUSIC CHARTS.
-By Marie-Ève Venne
Photographer John Londono
Fashion Editor Tinashe Mussara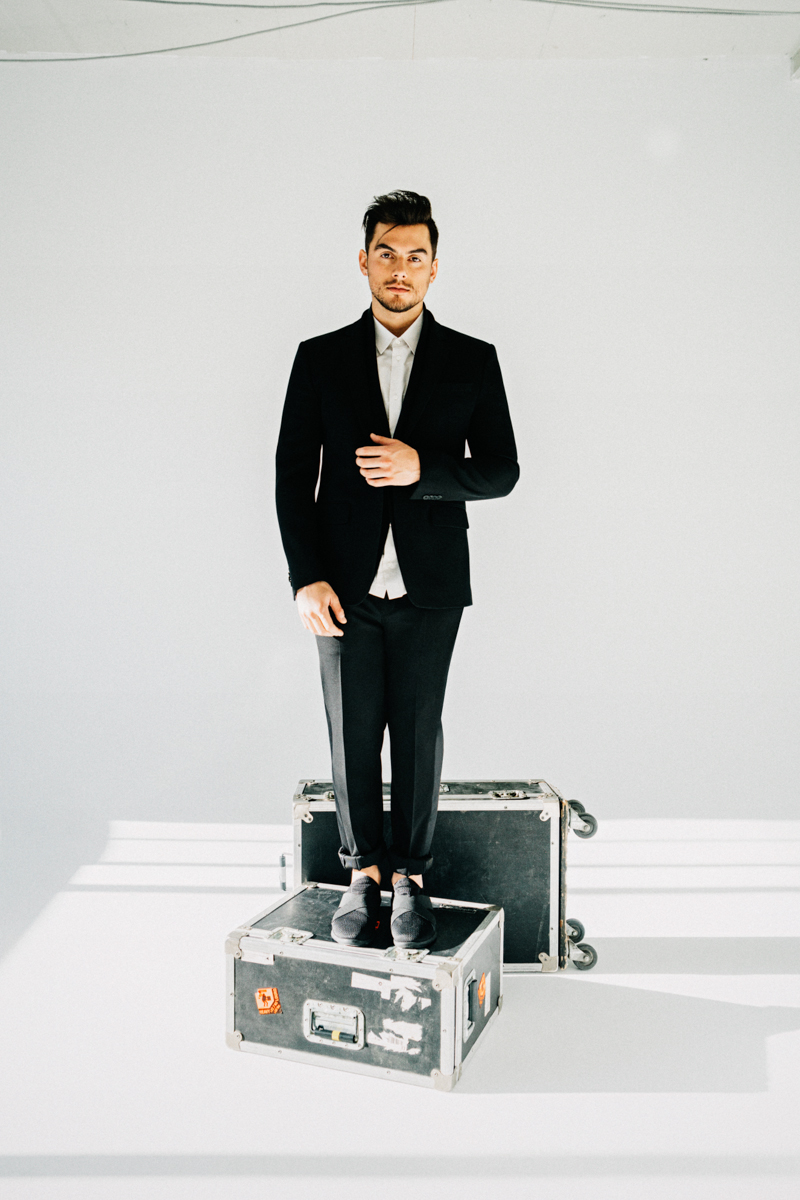 Although many assume Leighton James is just a regular DJ, that is not the case. Once an Accounting and Finance Major at McGill University, James took a hiatus from school to pursue his love of music and take a chance on pursuing his dreams in the industry. Although not a graduate (due to his success and crazy schedule), James has quite the entrepreneurial umbrella for a twenty-eight-year-old, DJ or not. He is one of the proud owners of Montreal hotspot, École Privée, a co-founder of M Immobilier – a real estate company he founded with two childhood friends – and has many more businesses currently under his belt and on the way. As a well rounded entrepreneur and role model, DTK asked him some questions to find out the keys to his success.
How did your career come about? Did you have a musical background? How does someone decide to become a DJ? As far as musical background goes, I was acquainted with music before I was even born. My parents used to show me pictures of headphones over my mother's belly. From a young age, I was encouraged to sit in front of the piano. At 7 years old, I began classical piano studies at McGill. This went on until I was about 14, when my musical tastes openly pivoted into somewhat more aggressive territory. I gravitated towards guitar, guitar lessons and ultimately band practice ensued. This band is where Christian and I started the slow, gradual, rewarding process that was to become Adventure Club.
What was your parents' reaction when you dropped out of college to pursue a career in music? When Adventure Club really took off, I was a student at McGill University. With only about 2 semesters left, I knew a pivotal choice was creeping up on me. My choice to leave school indefinitely and pursue my dreams of making music was very supported by my family and close friends. Knowing that the opportunity in front of me was special and quite rare, my parents encouraged me to live life to its fullest potential. They are both large influences on my work ethic today and I am blessed to have them and my brother constantly in my corner, cheering me on. From music to other investment endeavours, their guidance and support has always been something I could count on.
Do you think that there are some prejudices regarding the EDM scene? Speaking candidly, I believe it is possible that individuals who are not in the scene look at Producers / DJs as nothing but belligerent button pushers. I speak for us and many of my friends in the industry, when I say that this is a stereotype well past its expiry date. The majority of us have extensive musical background (Christian and I grew up playing instruments), run our brands intelligently and passionately. A shred of critical thinking would make it inconceivable that there's some singular magic button, that, when pressed creates music out of thin air. Our first album, Red // Blue, just dropped and went to the number one dance spot on the iTunes charts in Canada and USA, while hitting millions of plays on Spotify, SoundCloud and YouTube. We toured the album on the Made In Canada tour, which we just successfully wrapped up. We will now begin touring the album worldwide.
You don't drink anymore and live a very healthy lifestyle. Can you elaborate? I want to be clear that Christian and I did not stop drinking due to addiction, but rather to better focus our energy, realign and reassess our life paths. Our lives have many moving parts, parts that require clear unclouded vision to manage and navigate. Personally, I began to loath how I was feeling. After some time on the road, I had normalized to this clouded mental and physical state, but without fully having a "clean" state to compare it to, it wasn't always clear to me that there was an issue to address. This frees up a lot of mental and physical capacity on the road, which enables me to shift my attention to the various ventures I'm simultaneously involved with.
Our long-time friend John Romaniello from RomanFitnessSystems.com, shared with us some of the most invaluable principles to follow while travelling, as well as introducing us to the concept of intermittent fasting, enabling us to make the right dietary choices on the road. Dave Asprey also introduced us to the wonderful ways of bulletproof coffee. Jason Dolgy, our in-house trainer from Sports Performance Training in Montreal, has taught us an abundance of workout techniques that can be practiced anywhere.
What do you think was the turning point for your career? When did you realize that things were happening for you and Christian? Interestingly enough, while attending university, I was reading "The Dip," by Seth Godin. It's a little book that teaches you when to quit and when to stick. I believe I subconsciously used the book as a measuring stick for Adventure Club. All the signs that it might be time to quit, never really appeared. We set out small goals for ourselves, accomplished them and kept moving forward. Bit by bit, we hacked away. It's always hard to get "altitude" or outside perspective on a situation, but to us we knew we had something good, riding the right wave at the right time, so it's hard to pinpoint when we realized that we could make this our career. I think it was somewhere between releasing our first EP, getting heavy rotation radio airplay and playing Coachella, that we comfortably looked at each other, nodded and realized a major tipping point in success had been achieved.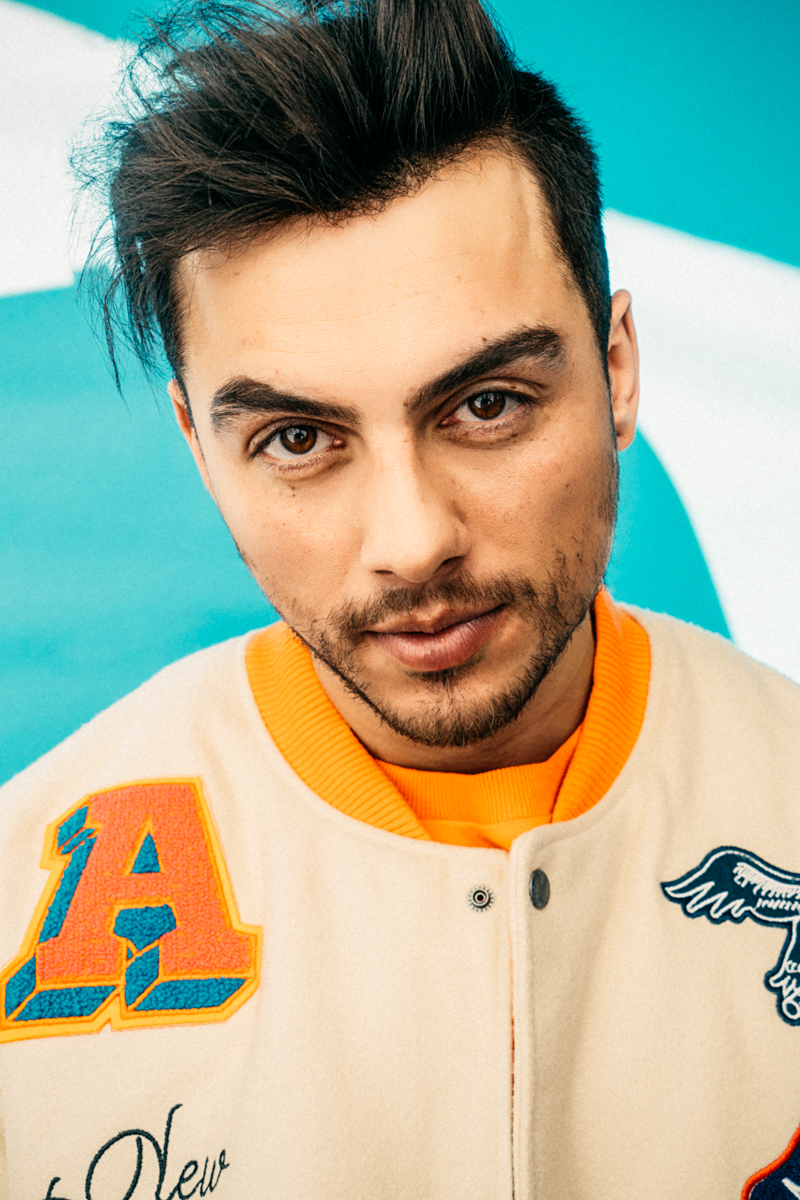 What do you do on your time off to relax? I find it hard to completely shut off and relax, but things that I enjoy leisurely are reading, playing piano or watching anime with my brother. Podcasts are great for lengthy travel, I love Tim Ferris, Freakonmics, Serial, Art of Charm & Planet Money to name a few. I'm a huge advocate for active recovery, if ever I need a moment, I'll turn to meditation, a quick session with the Headspace app does the trick.
Is fashion a big part of your creative universe? I look at fashion as a creative outlet and lately I've realized that I found a new love for sneakers and wearing more fitted clothing. I tend to always gravitate to luxury streetwear and really enjoy wearing brands like Stussy or Off White. Being from Montreal, I also like to support local brands and one would find lots of Atelier New Regime, Dime and Raised By Wolves in my closet. Some of my favourite stores in Montreal include Rooney, Off The Hook and Ssense.
What do you think makes you successful? I think one of my favourite maxims is it takes 10 years to become an overnight success. There's been tons of trying, failing, but above all perseverance for this career to take form. We were fortunate enough to have the internet at our disposal. People are there, they want to listen, you just have to reach them. There's also the obvious great support system we have been lucky enough to inherit. The obvious being our families, but the important behind the scenes players are as follows: Our manager, Robbie Sabato, our team at WME, notably Pete Wiederlight, and our tour manager, Aaron Vanpoole. Ultimately, you are a reflection of who you choose to surround yourself with. Thankfully, Christian and I have an incredibly synergistic relationship, we play to each other's strengths, while helping one another slowly eliminate unnecessary weakness. He is the the definition of a true artist, and truly inspired.
What are some of your upcoming work projects? Growing up I always knew I had no interest in the standard 9-5 work routine. I never had any issues putting in the work, but it had to be on my terms. This article isn't long enough to mention failed projects, but what I can say is, Adventure Club has rekindled my passion for the entrepreneurial spirit, I'm now able to help other like minded individuals by funding their dreams, and giving advice through Kaius Capital.
I am currently one of the proud owners of École Privée, a nightclub on St. Laurent Boulevard, Montreal's most known nightlife street. Being in the music industry, it was only natural to me to eventually invest in a nightclub of my own. I also have always had a passion for real estate, alongside my property portfolio, I was an early investor in M Real Estate (M Immobilier), a successful, exponentially growing, real estate agency distinguishably guided by Justin Comeau and Anthony Colletti. Successfully utilizing online platforms and pioneering industry specific marketing and technology, M meticulously showcases properties with innovative and hollywood-esque cinematography, shot and directed by in-house media director, Liam Callou, owner of prominent production company, Wolf & Owl. It is a project I am extremely proud of.
Kaius Capital has also provided seed capital for over five start up companies including Underground Cellar, Landr, Stack and a handful of others.
To learn more about Leighton James' (many) other projects, make sure to follow him on his personal Instagram account, @leighton_ac.
Written on: July 11, 2017