DTK MEN Exclusive: interview with Lucas Di Grassi and Daniel Abt
IJust days before the very first Formula E race in Montreal, Dressed To Kill had the opportunity to go behind the scenes and visit the pits as the engineers worked towards assembling the fully electric cars for the doubleheader weekend. Mark, a spokesperson from the Abt Schaeffler Audi team, as well as the soon to be champions Daniel Abt and Lucas Di Grassi were kind enough to take time out of their preparation schedule to give us first hand insight on how they feel about the upcoming race and the Formula E as a whole.
Daniel Abt is only 24 years old but he's already like an old fox, not only in motorsport but also in formula E. He's been in Formula E since the very first race. He's been on the podium four times before this weekend and he's been racing in three categories like Formula 3, Formula Masters in Germany, and the GP 3 championship, GP 2 as well as a lot of endurance racing. For his age he is quite experienced.
 How is it to drive an electric race car on the circuit?That's the question we are getting asked all the time of course. To be honest, the Formula E is not super different to drive these cars. People always think it is but actually the throttle response is a bit more direct. Apart from that it's still a proper race car with a carbon chassis, carbon brakes, aerodynamics, front wing, rear wing, of course a battery ;that's something that changes. So, actually we have to look after the energy that we use especially in  the race. We have to do energy management so we cannot go flat out all the time but it's actually quite interesting because it's a lot of strategy that comes into play and it makes the racing more exciting. For me it's a lot of fun to be in the series, it's nice that we are here, it's a shame that it's already the the last race of the season but of course we are gonna try to make it a good end.
We were talking about racing on street circuits. You've been racing all your career on permanent race tracks where you have wide run off areas, so it's easy to make mistakes even if you end up in the gravel beds,so it's kind of different in Formula E, it's about centimeters. Yea it's a huge challenge for us because normally when you come to a race track there's run off so you are quite quick at being at the limit. If you go over the limit you go a bit wide, you come back and try again next time. Here, going over the limit means your car is damaged, you're not going to continue, so every lap you kind of have to go closer, closer to the limit, closer to wall but of course you cannot touch them. It's a huge challenge but also for the whole racing, I mean, if you over take someone, if you outbreak yourself, it's easy to shunt. I think it's quite likely that you will see someone hit a wall this weekend, but it's part of the game and it makes it even more exciting.
Tell us a little bit about the special family atmosphere here at Formula E, because I heard you've been away with some drivers in Miami last weekend to celebrate a birthday, we've been with other drivers in amazing cities like New York, we've been to Paris, we've been to Berlin, we've been to Hong Kong, now we are in Montreal which is an amazing city, so what is this certain atmosphere in Formula E all about? Well we went to Miami only for fitness training (laugh). No, it's a completely new championship. Kinda feels like everyone is trying to bring this up together. So even though we are competitors, the atmosphere between teams and drivers is super nice. We get along very well, we're even on holidays together, and still fight on track. I've not experienced that in any other racing series and I really like that, and I think that's also a factor why I think the championship is successful because it's not every team trying to beat the other, it's really everyone trying to bring this championship to higher levels. So I think that's really nice. I hope it stays like this. You never know, maybe it will change in a few years, but at the moment it's a lot of fun.
Did you ever think that you would be driving fully electric cars?No of course not, when you grow up racing, it's not something you have in your mind. I was quite lucky Formula E came at the right time for me, and when it came, of course I didn't know what to expect, I remember the first race we were not really super excited because it was not a lot of pressure, it was brand new, so I didn't know what to expect but it changed a lot already in two and a half seasons, almost three now. It's changed a lot and you see a lot of drivers from all around the world wanna be here right now so it's a privilege to be in this.
How do you prepare for your races?We go through simulators, obviously we cannot try the tracks before, so that's the best way to prepare. Go through sim, drive the track see how it works, and so when we arrive here, I already know every corner, I know which gears, I know everything, so that's a huge help.
Is it like a game simulator, like playstation?No it's much more sophisticated of course, it's like a real chassis, so you actually sit in a car, put on a platform that moves and you have a huge screen so you feel like you are actually on a track.
You mentioned physical training, how do you prepare physically for a race?Well you need to do a lot of endurance stuff. We need to be fit. Here the physical part is not the car itself, we don't have massive g forces, what is extreme is you have everything in one day. So we get up at six in the morning, we have free practice, we have no time to rest, we have no space even to cool down if its a hot day.. So everything moves fast. If your not fit, you'll be tired by the time the race starts so it's an important part.
Lucas Di Grassi joins the conversation.
What do you think about going into these last final races?Lucas Di Grassi: It's a very important race weekend of course, but very different from last year we have to catch up ten points which is a lot, so we are in a position that we have a lot to gain and very little to lose, so we can take extra risk to try to win the races this weekend. New York was slightly less an average weekend for us even with twenty-two points. But yeah the title is just there in reach. We work hard and in formula E, anything can happen. So until the flag is out at the second race on Sunday, nothing is guaranteed.
Did you change anything in the approach for this weekend? Not really so far. Like everybody knows we cannot test anything so we did a lot of work on the simulator, we worked every scenario, every possibility, we slightly improved the setup for this weekend, based on what we understand from New York and hopefully the car is good and  we can have a good weekend.
We have a long circuit here, one of the longest in the calendar, you've been in the simulator, so what do you think about this circuit?I just walked the track, and it looks beautiful, it looks like a proper street track. Old school, lots of long straights, fast corners, bumpy areas, smooth areas, old tarmac, new tarmac, so it's gonna be extremely exciting, and a very technical track for sure. One of the most difficult tracks of the season. And it's brand new for everyone, So experience counts for zero. Everyone will have their first chance of getting the feel of the track on Saturday morning.
 What has been one of your favourite tracks so far?For me, my favourite formula E track has been Buenos Aires, in terms of pure track itself because it has high speed corners, it has overtaking points, it's very wide. We are not racing there anymore, it was a very good track in the first season. Here kind of resembles Malaysia, which also was a nice track, but I think bigger and wider with longer straights. So for sure this is a strong candidate to be one of my favourites.
In a couple of years you guys are gonna go down from four cars to two, so have you guys been starting to prep for that?As a team, we are trying to improve every year. The rate of improvement is only good or bad compared to the rate of improvement of the other teams. We are much better than we were last season, but we arrived to the last race with a bigger gap. So competition is very stressful because we cannot only be better, we have to be better than the others. And that of course depends on you but sometimes it doesn't. So it's very stressful, it puts a lot of pressure on everybody to reach their maximum and we have a great team behind us, great partners and the championship will only get stronger every year that passes. With more manufacturers we will create more value. We hope Formula E becomes a world championship very soon. The Championship has only bright years ahead of it. I think come season 5, season 6 and onwards, it's really gonna step to a completely different level and has all the ingredients to be one ofthe two main series of the world, or maybe the most relevant series in the world in terms of technology.
As more big name manufacturers like Porsche and Ferrari continue to join the Formula E, the validity behind the claim that fully electric cars are the future of racing continues to grow. Daniel Abt and Lucas Di Grassi, as well as the other talented racers and engineers, are at the forefront of the evolution of automotive racing; paving the way for generations of faster more efficient cars to come.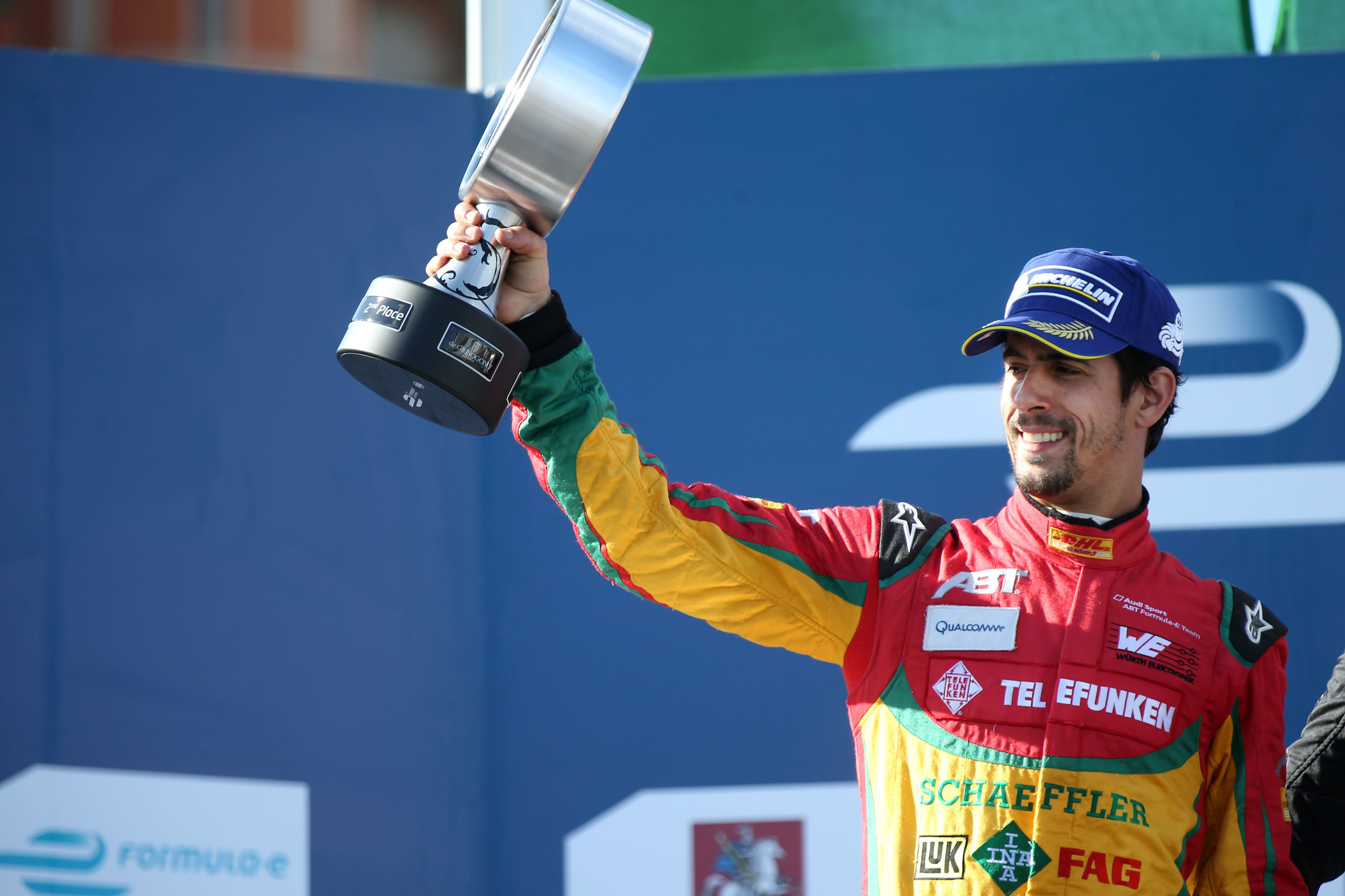 Written on: August 8, 2017