Fast & Furious: Lionel Sanders,
Ironman Triathlete
—By Braydon Holmyard
Photographer Mark Binks
Fashion Editor Mark John Tripp
It was the middle of the night. Lionel Sanders laced up his shoes, stepped outside and started to run. He'd done it hundreds of times before, but never under these circumstances.
There he was, racing into the eerie darkness of a quiet November night. The streets were silent, but he couldn't take any chances. He ran towards the one place he knew no one could find him: the graveyard.
He ran until he couldn't run anymore.
Two nights earlier, Sanders had somewhat of an awakening. It was just a regular evening at his place of residence in Windsor, Ontario. A group of people had gathered. There were drugs. Plenty of alcohol. A fistfight.
But on that night of November 5, 2009, Sanders didn't drink. He didn't do drugs, either. Nights like this were extremely rare at the time, and watching it all transpire through a sober lens ignited something in him.
That's why he found himself running through the cemetery. He'd do it nearly every night for the next three weeks. Because running has always been something he could come back to. Even when he felt like there was nothing worth running towards.
"It was the one thing from growing up, the forming of my self-esteem, that I felt competent in," Sanders says, reflecting on how he was able to climb back from the depths of what he calls "rock bottom."
Before he became one of the fastest men in the world to compete in the Ironman, a gruelling test of mind and body comprised of a 3.8km swim, 180km bike ride, and a 42.2km run, Sanders had stumbled down a dangerous and destructive path.
Growing up in a small town of Harrow, Ontario, just outside of Windsor, Sanders was a stand-out runner for his age. He broke a handful of records in Windsor-Essex County before high school. He was faster than any other boy his age at the provincial cross-country championships in 2009.
During a time when Sanders was discovering himself, his success on the track turned into a chore. People expected him to run. It quickly became an obligation.
"That was when I started to disengage from sport and think of myself as less and less of an athlete and more of a party guy," Sanders says. So that's what he did.
Winning races used to fuel him, but his definition of success shifted from who could run the longest to who could party the hardest. When he got to university, substance abuse took complete control of his life. Athletics were no longer in the picture.
And so, the two years of teetering towards rock bottom began.
There was the time he tried to throw himself out the window of a moving car. When it was closed, he tried to break it with his head until he vomited and urinated on himself.
Or the time he was turned away by a drug dealer, who was so concerned for his well-being that he decided it wasn't worth an easy sale.
"He had crack in his hand. He literally refused to sell it to me and told me to go home," Sanders says. He speaks about his past freely, as if the weight of the person he used to be left his body long ago.
Over the two-year spiral, these moments paved the way to a six-month period where Sanders barely left his home. Living in isolation, his mind often wandered to unfathomable places.
"The hardest part was waking up and staring at the roof. Having absolutely no reason or desire to get out of bed," he says, emphasizing how sad it is for him to reflect on this stage of his life.
"When you've got nothing to live for anymore, that's rock bottom to me."
It wasn't long after his midnight tombstone tour that Sanders decided to look up 'Ironman triathlon.' He describes himself as "hardcore" and the type of person who puts all of his effort into something, so it is no surprise that he phoned his mother immediately and told her about the race.
"If I devote myself to training for this thing, there's just no way I can be feeling like this anymore at the end of this process," he says.
His competitive nature can be traced back to the time he tripped in a muddy ditch at the beginning of a cross country race in the tenth grade. His shoe became lodged in the sludge. After a brief moment of disbelief, he carried on and finished the race in his sock, which he kept as a souvenir for years.
With help from his mother, Sanders bought a bike and signed himself up for an Ironman race. It was incredibly daring considering his physical and mental state.
When it came to training, Sanders was learning as he went. The running came naturally. As for the other aspects of the race, he had taken swimming lessons as a child and used to ride his BMX bike to school. That was it.
After ten months of staying mostly clean — there were a couple of brief relapses — and a ruthless conditioning schedule, Sanders completed his first Ironman in Louisville, Kentucky in August of 2010. The feeling of that accomplishment still motivates him today.
"It was just this feeling of, 'Wow, I achieved that.' If I could do that, I could do anything," he says. "I've been allowing that feeling to percolate ever since."
Since then, the Canadian has managed to put himself comfortably in the conversation with the top Ironman competitors in the world. His list of accomplishments is growing by the year.
In 2013, he competed in and won his first professional race, defeating Andreas Raelert, who in 2011, set the world record for an Ironman.
Over the last few years, Sanders has battled with one of the all-time great Ironman triathletes. He considers Olympic gold medalist and two-time Ironman world champion Jan Frodeno one of his heroes and even had a poster of him on the wall of his training room.
And while he's come close to overtaking Frodeno on the course, he has yet to break that barrier.
Sanders promised himself he would never lose sight of why he runs. Whether it's through a cemetery before dawn or at the Ironman World Championships in Kailua-Kona, Hawaii later this year, every step is to test himself.
But finally beating his hero in October would be just an extra bit of motivation.
"We run 26 miles side-by-side and then it comes down to a sprint finish," he says. This moment plays on repeat in his head. It's what he dreams of. "And obviously, I hope to win the race."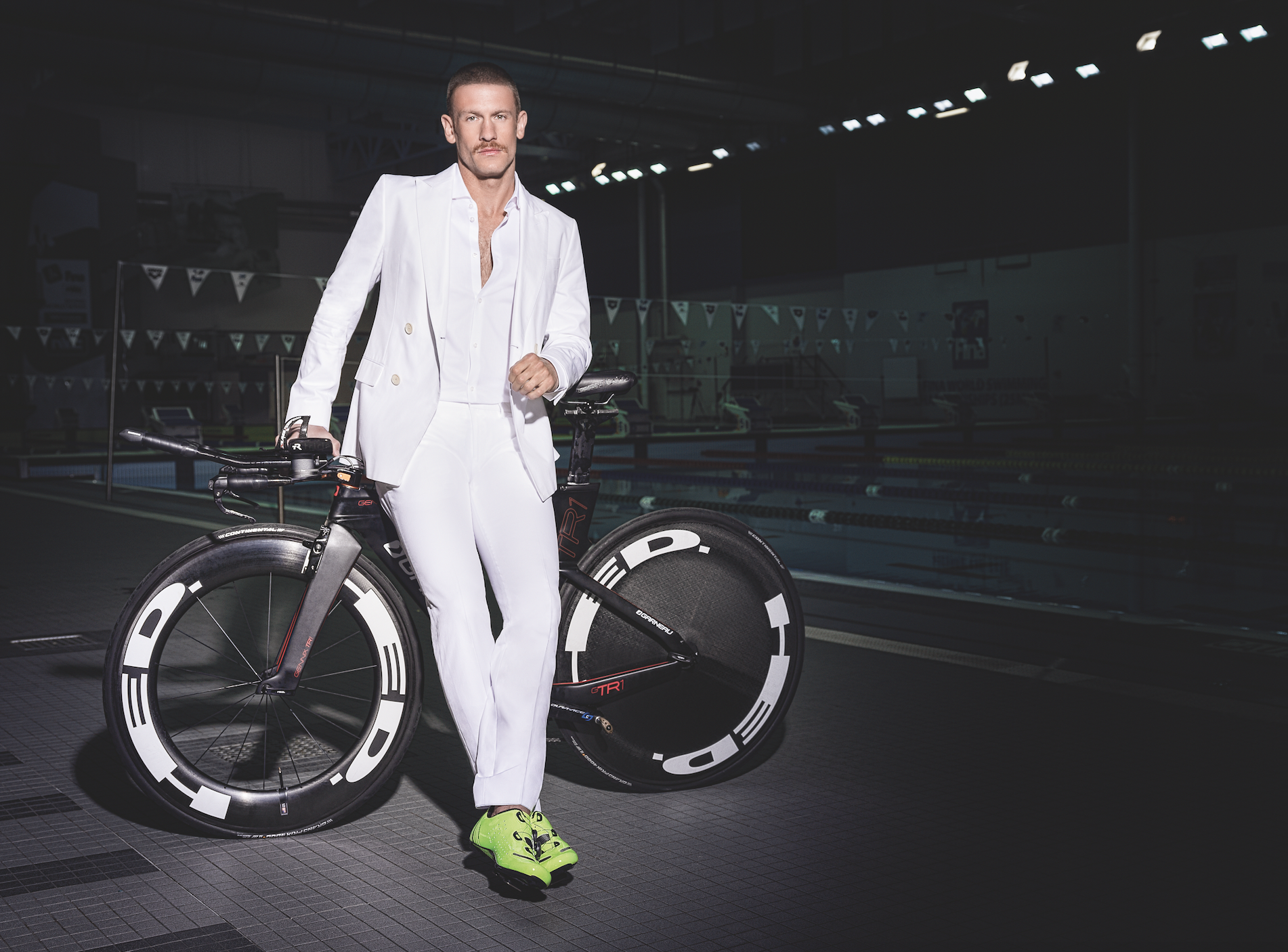 Suit ($1,195) and Shirt ($225) BOSS. Eyewear ($550) ROBERT MARC at JOSEPHSON OPTICIANS. Bike & Shoes LIONEL'S OWN.
Superocean Heritage II Chronograph 46 with Black Rubber Aero Classic Strap ($5,415) BREITLING.
Superocean Heritage II Chronograph 46 with Black Rubber Aero Classic Strap ($5,415) BREITLING.
Suit ($400) at SIMONS. Eyewear ($595) ROBERT MARC at JOSEPHSON OPTICIANS.
PhotographerMark Binks
Fashion Editor Mark John Tripp
Art Direction Kathia Cambron
Creative Direction Sylvain Blais
Grooming Richard J using MOROCCANOIL and MAC COSMETICS
Shot with Fujfilm GFX 50 S Camera
Location: Windsor International Aquatic and Training Centre
Written on: November 29, 2019