DTK Men is always willing to go a few steps ahead to bring YOU top of the line tips. In a search of the perfect hairstyle, we partnered up with iconic grooming brand American Crew Canada. They are a true men's brand that really provides you with every possible solution. Anything you can think of grooming wise, they've got it covered.
—By KW
Photographer Richard Bernardin
Creative director Sylvain Blais
Fashion Editor Randy Smith
Hair Stylist Pete Goupil
Before working with them, we were familiar with the brand, but what we didn't know is just how many products they have, making them able to cater to ALL of your possible needs. A stylist told me once that great hair is 30% the cut and 70% the product.
Some of the coolest guys you know have a few tricks they might not be eager to share, but we've gone directly to the source and worked with American Crew Canada All-Star style-expert Pete Goupil who gave us some great tips for a mid-length rebel style and also demystified how to get the modern beard and have hair like a true gentleman. If ever you find yourself in Montreal, check out Pete's base, The Tiny Barbershop, to see the master at work.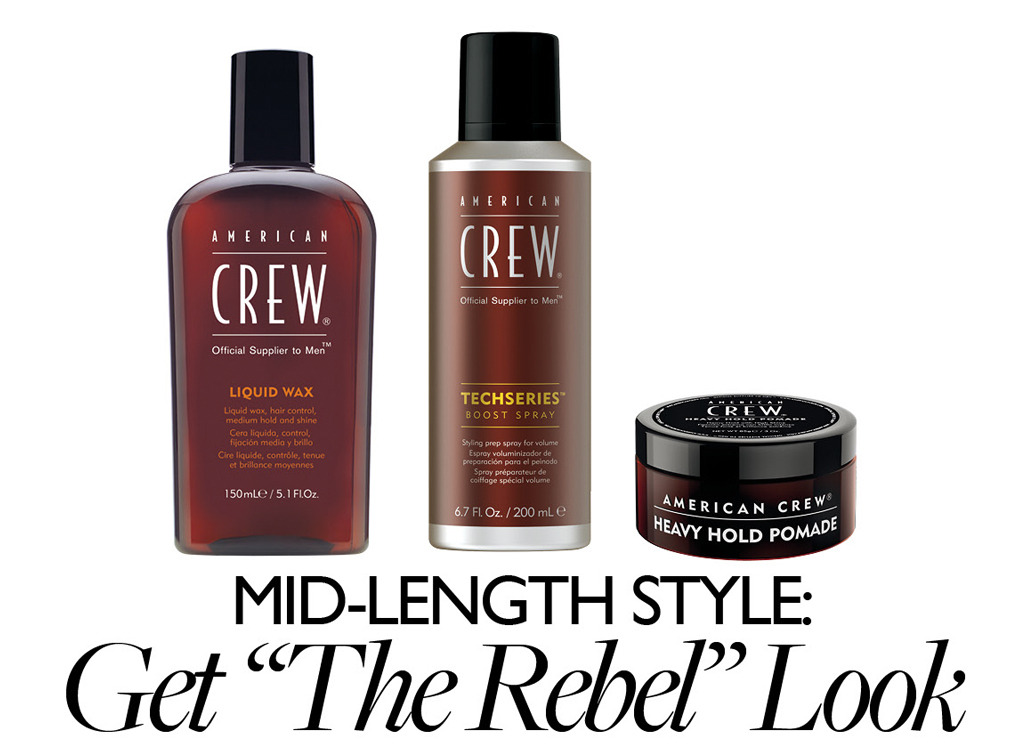 Top model Gabriel looks pretty cool in this shoot with his awesome hair and his HARLEY DAVIDSON, but you know he doesn't wake up in the morning looking picture-perfect. Here a few of our favourite American Crew products that were used to create this look.
The Liquid Wax ($17.95/150ml) can be used on any given hairstyle to add some texture and shine and help your hair stay put while still keeping it flexible.
If you are looking for a bit more volume and hold, try their new Techseries Boost Spray ($21.95/200ml) for a great finishing touch.
If you're more of a one-and-done kind of man, opt for a pomade, like the cult favourite Heavy Hold Pomade ($21.95/85g), which offers a maximum hold and shine to create sleek and smooth styles.
Everyone agrees that Paul Mason has the "it" factor. He just looks amazing all the time. How does he do it? Well, he has taste, a great physique, and….. a phenomenal white beard. He actually is more successful now with the long white beard than during his early modelling days! Here are the best American Crew products to help you get a hair and beard just as awe-inspiring.
During the filming of our step-by-step video tutorial, we learned a lot about how to master Paul's classic, sharp look. Starting with beard grooming, the Beard Foam Cleanser ($11.97/70ml) is a great choice; it doesn't require water to apply or wash out and leaves the beard with a great scent. If you have a beard, please use this this, as it is the perfect go-to when you need a quick refresh.
If you're more sophisticated in your facial hair routine, you could use the Beard Serum ($19.95/50ml), as it will make your beard soft. It's perfect if you're not planning on ending your night solo. If you have a longer beard and want to have a bit more fun and really style your beard, go with the Beard Balm ($11.97/60g).
Of course, we also did Paul's hair, where we discovered the Boost Powder ($19.95/10g). You have to do yourself a favour and try this. It's a truly magic powder that will give some grip and density to your hair. All you need is a little bit, and you're good to go.
Perfect for cocktail hours, the Alternator Finishing Spray ($15.95/100ml) will help you re-shape any style with just your hands. But, if you're more drawn to gels, go for the Light Hold Styling Gel ($15.95/250ml) instead.
All clothing TOP SHOP. Photographer RICHARD BERNARDIN. Fashion Editor RANDY SMITH. Models PAUL MASON and GABRIEL GENDREAU at DULCEDO. Grooming STEVEN TURPIN at TEAMM MGMT using NARS. Hair PETE GOUPIL using AMERICAN CREW. Assistant DON LOGA. Assistant Grooming GENEVIEVE HARDY.
Check out the grooming video with Paul Mason, and elevate your hair with rebel Gabriel Gendreau below.
Photographer Richard Bernardin
Fashion Editor Randy Smith
Models Paul Mason and Gabriel Gendreau at DULCEDO
Grooming Steven Turpin at TEAMM MGMT using NARS
Hair Pete Goupil using AMERICAN CREW
Assistant photographer Don Loga
Assistant grooming Genevieve Hardy
Written on: January 20, 2020