Entrevue avec Marie Saint Pierre
MAISON MARIE SAINT PIERRE
Dans le cadre de mon initiative ayant pour but de faire découvrir la diversité de marques locales, je vous présente aujourd'hui le "luxe réinventé" de Maison Marie Saint Pierre.  
Par : Andrew McNally
English below.
Maison Marie Saint Pierre par Marie Saint Pierre, fondatrice et designer.
Comment est née votre marque et comment la décririez-vous ? Depuis près de 35 ans j'ai bâti l'identité de la marque, un savoir-faire local et les infrastructures nécessaires pour positionner Marie Saint Pierre comme première maison de luxe canadienne avec une chaîne de développement et de production à 360 degrés. Cela permet un développement et une production habile et intelligente. Au cœur de la création, les notions de qualité, d'efficience, d'éco responsabilité et de bien-être imprègnent l'ensemble des étapes de ma chaîne d'approvisionnement et de production comme symbole d'un LUXE RÉINVENTÉ.
Parlez-moi de votre processus créatif ? Mon processus créatif est issu d'une réflexion sur la matière première, les volumes, la fonction et l'identité. La matière est le point de départ de toute les collections, les volumes et la confection s'articulent autour du mouvement et de la recherche de nouvelles techniques qui enrichissent le travail de création et bonifient la qualité et la fonctionnalité de chaque pièce. Je travaille sur mannequin vivant ce qui me permet de voir le mouvement de chaque pièce et selon moi ceci fait en sorte que le vêtement prend tout sa forme lorsqu'il est porté. Je crée aussi des accessoires et des articles pour la maison qui s'alignent avec les valeurs de la Maison car ils sont tous développés à l'interne et non sous licence.
Qu'est-ce qui a inspiré votre nouvelle collection ? Les femmes que j'habille sont mon inspiration. J'ai le privilège de vêtir des femmes sûres d'elles qui portent mes créations parce qu'elles leur procurent un pouvoir à la fois de protection et de séduction, une espèce d'armure moderne sur laquelle elles peuvent compter en tout temps.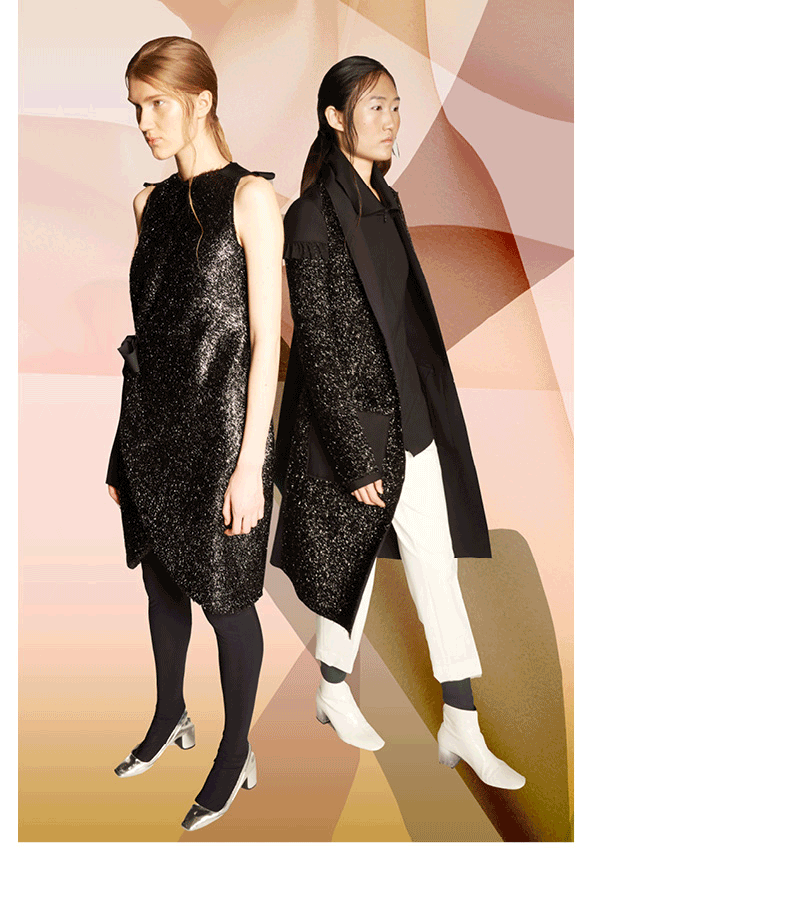 Quelles sont vos influences du moment ? Tout autour de moi m'influence, particulièrement la nature et sa fragilité face aux changements climatiques. J'essaye de poser un regard sur une réalité dans toute sa décadence. À travers mon geste artistique j'en extirpe la beauté. Les sujets des dernières collections parlent des insectes en voie de disparition, des déchets plastiques rejetés par la mer, de nomadisme et de réchauffement de la planète.
Quelle est le produit phare de votre marque ? Notre gamme de classique reste le pilier de notre marque. Nous développons près de 350 styles par an (j'espère que la situation présente ralentira ce rythme imposé), donc difficile de rester sur un seul produit, mais de façon plus technique nos pièces hybrides de confection semi-structurées sont toujours des pièces maîtresses des collections.
Qui sont la femme et l'homme Marie Saint Pierre ? Comme je le mentionnais plus haut, j'habille des femmes (et des hommes plus récemment) d'action qui ont le désir de changer les choses. Le vêtement est pour eux plus qu'un simple reflet de leur statut, il est au centre de leur caractère et porte un message et symbolise le mouvement, l'individualité et le bien-être.
Quelle est votre plus beau souvenir relié à la mode ? Défiler à Paris en 1995.
Comment relevez-vous les défis de la COVID ? Je crois que cette crise va bousculer de façon permanente notre industrie. Surtout dans le créneau du luxe où l'on a de façon systématique dépourvu le produit de son intemporalité. Le commerce a eu le dessus sur la qualité qui est l'essence même du luxe. Heureusement, nous sommes un peu en marge de cette tendance car notre production que l'on a voulu locale reste limitée dans son expansion, ce qui crée de la rareté.
Sur une note différente… quel est le livre sur votre table de chevet ? Mon iPhone. Je n'ai pas la concentration et le temps nécessaire pour lire en ce moment donc je me tourne vers les balados.
La chanson que vous écoutez en boucle ? Encore une fois je n'écoute pas une chanson en boucle, mais parfois certains artistes comme Jacob Gurevitsch ou ma nouvelle playlist sur Spotify (MSP).
Une télésérie que nous devrions visionner en rafale ? En ce moment, j'écoute "The Eddy".
Votre recette du moment ? Le pain maison.
Et un film qui vous inspire ? Question difficile ! Comment en choisir un alors qu'il y a tant d'œuvres magnifiques ? J'aime beaucoup l'œuvre de Jean-Marc Vallée, Denis Villeneuve, Léa Pool et Denis Arcand, pour ne nommer qu'eux.
*********
Maison Marie Saint Pierre by Marie Saint Pierre
FOUNDER AND DESIGNER
As part of my initiative to showcase the diversity of local brands, I invite you to discover the "reinvented luxury" of Maison Marie Saint Pierre.  
Par : Andrew McNally
How was your brand born and how would you describe it ? For nearly 35 years I have been building the brand identity, local know-how and infrastructure necessary to position Marie Saint Pierre as Canada's premier luxury house with a 360-degree development and production chain. This allows for skillful and intelligent development and production. At the heart of creation, the notions of quality, efficiency, eco-responsibility and well-being permeate every step of my supply and production chain as a symbol of REINVENTED LUXURY.
Tell me about your creative process? My creative process stems from a reflection on raw materials, volumes, function and identity. The material is the starting point for all collections, volumes and tailoring are based on movement and research into new techniques that enrich the creative work and enhance the quality and functionality of each piece. I work on a live model which allows me to see the movement of each piece and in my opinion this makes the garment take all its shape when it is worn. I also create accessories and items for the home that align with the values of the Maison as they are all developed in-house and not under license.
What has inspired your latest collection? The women I dress are my inspiration. I have the privilege of dressing self-confident women who wear my creations because they provide them with a power of both protection and seduction, a kind of modern armor they can rely on at all times.
What are your current influences? Everything around me influences me, especially nature and its fragility in the face of climate change. I try to look at a reality in all its decadence. Through my artistic gesture I extract its beauty. The subjects of the latest collections talk about endangered insects, plastic waste dumped by the sea, nomadism and global warming.
What is your brand's flagship product? Our range of classics remains the mainstay of our brand. We develop nearly 350 styles a year (I hope that the current situation will slow down this imposed rhythm), so it is difficult to mention a single product, but in a more technical way, our semi-structured hybrid pieces are still the masterpieces of the collections.
Who are the woman and the man Marie Saint Pierre? As I mentioned above, I dress women (and men more recently) of action who have the desire to change things. For them, clothing is more than a simple reflection of their status, it is at the centre of their character and carries a message and symbolizes movement, individuality and well-being.
What is your most beautiful fashion-related memory? Presenting my collection in Paris in 1995
How are you meeting the challenges of COVID? I believe this crisis will permanently shake up our industry. Especially in the luxury segment where the product has been systematically deprived of its timelessness. Trade has had the upper hand over quality, which is the very essence of luxury. Fortunately we are a little bit on the fringe of this trend because our production, which we wanted to be local, remains limited in its expansion, which creates rarity.
On a different note… which book is on your bedside table? My iPhone. I don't have the concentration and time to read at the moment so I'm turning to podcasts.
Which song are you listening to over and over? Again, I don't listen to a song over and over again, but sometimes some artists like Jacob Gurevitsch or my new playlist on Spotify (MSP).
Which television series are you binge watching? Right now I'm hooked on "The Eddy".
What is your favorite recipe of the moment? Homemade bread.
And which movie inspires you? Tough question! How do you choose one when there are so many wonderful works?
I really like the work of Jean-Marc Vallée, Denis Villeneuve, Lea Pool and Denis Arcand, among others.
Written on: November 16, 2020