Since the very first issue of the magazine, Jean-Claude Lussier realized some remarkable and memorable images. With great appreciation, we wish to offer him this career retrospective because his archives are important and admirable. Sure, the idea is to emphasize his work that spans over 30 years, but it is also an opportunity to share his upcoming projects. One thing is certain: He is full of energy, motivation and he's got big creative projects coming up!
—By Jérémie Ladouceur
Sensitive to the beauty of images, Jean-Claude Lussier was able to establish himself within Canada's fashion industry as a successful photographer since 1984. Self-taught and passionate, he continues to practice photography while adapting to today's realities and respecting his own artistic visions. While the ways of doing things have evolved over time, the desire to create and refine aesthetics remains an immense source of inspiration for Jean-Claude. The studio experience at Jean-Claude Lussier has always had the mission of achieving the highest quality standards, by practicing inclusive and sincere values.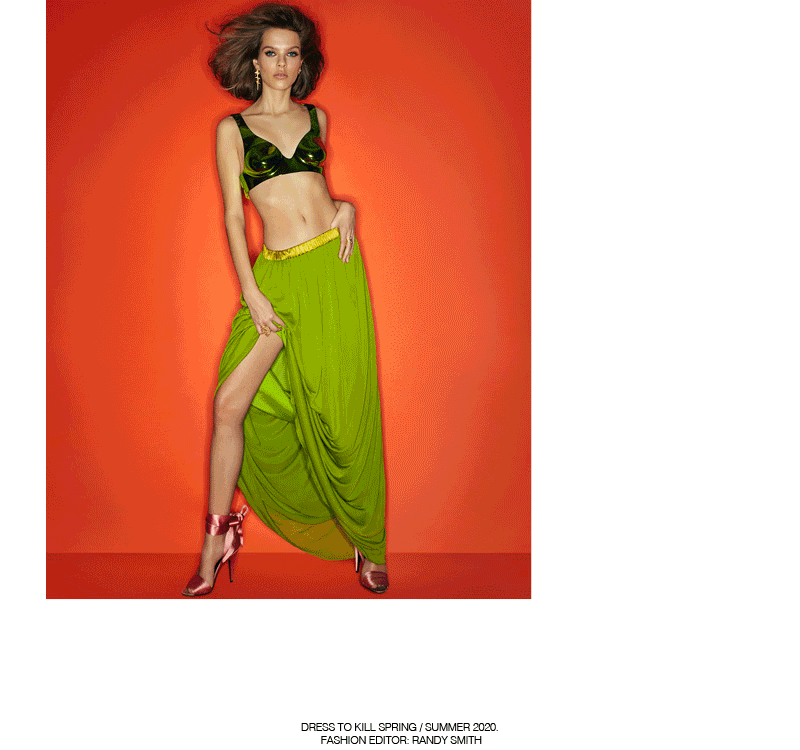 He shot many different international campaigns. His passion for imagery brought him to travel and enrich his culture, infusing his images with various inspirations. In the pages of magazines, his photographic stories exist, thanks to the savoir-faire of the best professionals in the industry. He was able to develop bonds of trust that are still alive today. The many collaborations reveal his talent.
Jean-Claude is a passionate craftsman, humble and genuinely admirative of anyone willing to work within the industry because he knows just how much challenge it is. If he is a reference today to many up-and-coming photographers, it's because he never stopped practicing but above all, always stayed disciplined.
Practicing in his studio in the heart of the Plateau for over 30 years, he decides today to relocate his activities in downtown Montreal's Belgo building. There, an interactive studio space will welcome his art where it will be possible to exhibit his archives and future artworks. Printed in large formats, the artworks are framed and integrated into different environments where they take other dimensions. In very limited and exclusive editions, the museum-grade prints are executed in a professional laboratory-atelier by a Master archive-images developer.
Accessible through his website, 3 virtual 3D art galleries are presented, each revealing a specific style of archive.
Catalogues of selected artworks are available for anyone interested in purchasing a piece. All inquiries may be addressed to production@jeanclaudelussier.com .
---
Profil sur le photographe
JEAN-CLAUDE LUSSIER
Présent dès la première parution du magazine, Jean-Claude Lussier a produit des images remarquables et mémorables. C'est avec beaucoup d'appréciation que nous souhaitons lui offrir cette rétrospective de carrière parce que ses archives sont importantes et admirables. Bien que l'idée soit de souligner son travail depuis les 30 dernières années, c'est aussi l'opportunité de partager ses prochains projets. Une chose est certaine : Il est rempli d'énergie, de motivation et d'idées de grandeur!
—Par Jérémie Ladouceur
Sensible à la beauté de l'image, Jean-Claude Lussier a su défendre sa place au sein de l'industrie de la photographie de mode au Canada depuis 1984. Autodidacte et passionné, il continu aujourd'hui de travailler la photographie en s'adaptant aux réalités des marchés, tout en respectant ses visions artistiques. Si les façons de faire ont évolués avec le temps, l'envie de créer et de raffiner les esthétismes restent une source d'inspiration immense pour Jean-Claude. L'expérience studio chez Jean-Claude Lussier a toujours eu comme mission d'atteindre les plus hauts standards de qualité, en pratiquant des valeurs inclusives et sincères.
Il a réalisé différentes campagnes internationales. Sa passion de l'image lui a permis de voyager et d'enrichir sa culture et d'infuser ses images à plusieurs inspirations. C'est dans les pages de plusieurs magazines que les histoires en images existent; grâce au savoir-faire des meilleurs professionnels de l'industrie. Il a su développer des relations de confiance qui perdurent encore aujourd'hui. Les collaborations sont multiples et dévoilent son grand talent.
Homme de métier, homme de passion. Humble et véritablement admiratif de quiconque se lance dans l'industrie. Il connait les enjeux et toute la beauté de ce métier. S'il est aujourd'hui une référence pour plusieurs jeunes photographes, c'est qu'il n'a jamais cessé de pratiquer sa passion et surtout, il est resté fidèle et sérieux face à sa discipline de travail.
Exerçant le métier dans son studio au cœur du plateau Mont-Royal depuis 30 ans, il opte aujourd'hui de relocaliser ses activités au centre-ville de Montréal, dans l'édifice Belgo, afin de développer un espace studio aménageable en galerie d'art afin d'exposer ses archives et ses prochaines réalisations. En favorisant l'impression grand format et l'encadrement d'œuvres sélectionnées, les images intègrent des environnements et prennent de nouvelles dimensions. En séries très limitées, les tirages de type musée sont effectués dans un atelier-laboratoire professionnel par un maître de développement d'images d'archives.
Visibles à même son site web, 3 galeries d'art virtuelles 3D présentent chacune des volets particuliers de ses archives.
http://jeanclaudelussier.com/en/archives/
D'ailleurs, les catalogues d'œuvres sélectionnées sont disponibles et les intéressés peuvent contacter production@jeanclaudelussier.com pour les questions concernant les ventes.
Written on: February 5, 2021