Made-To-Measure
Bigger dreams, ambitions, and more responsibilities call for more attention to detail. There comes a time when your wardrobe needs to stand out and reflect every aspect of your personality, by allowing you to look your sharpest at any time, and to everyone. I met with two Montreal institutions, specifically dedicated to helping you carry yourself in a flawless manner.
By Mathieu Jacques Bourgault
Sartorialto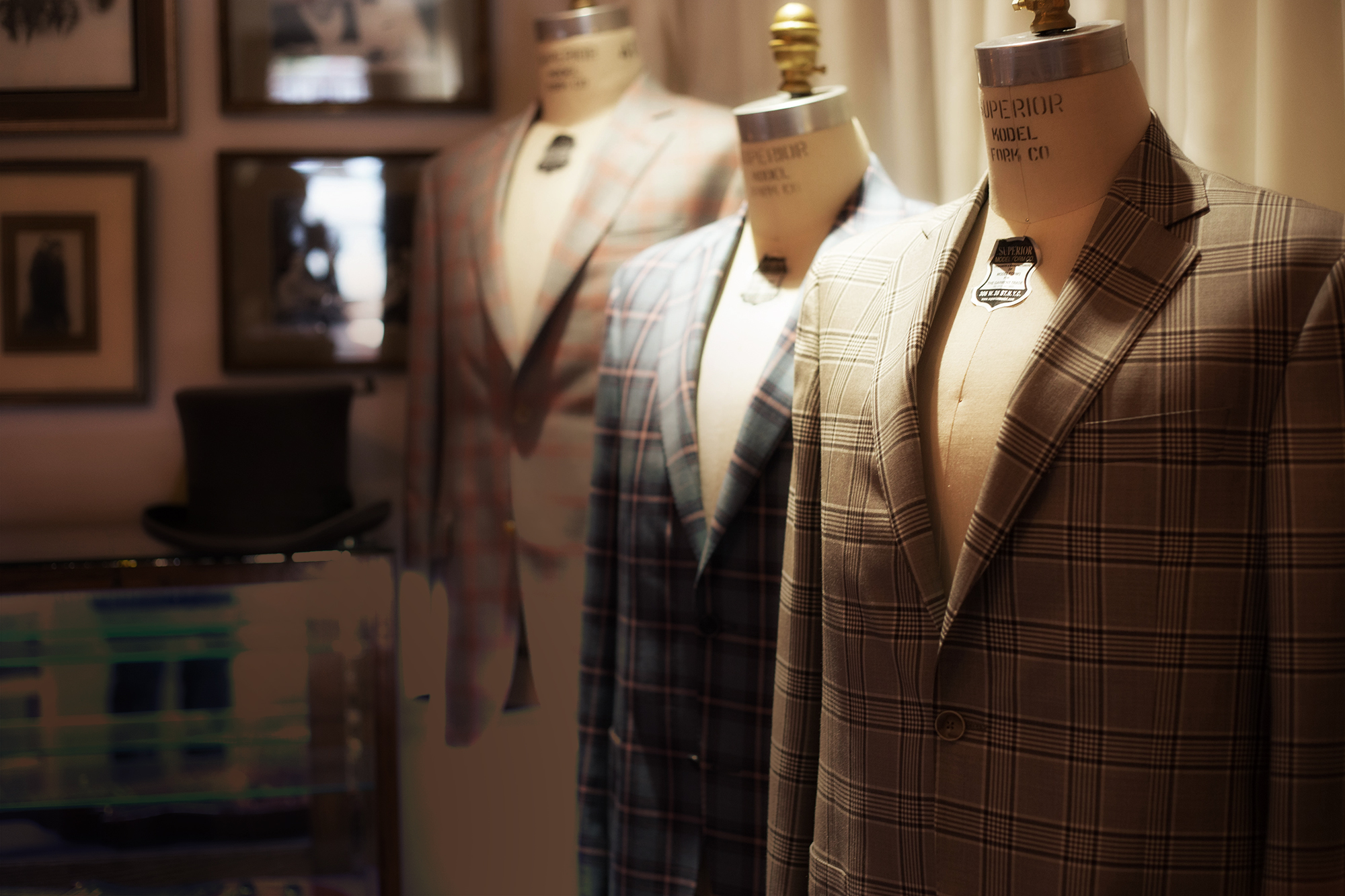 In business since 2007, Marc Patrick Chevalier and Maud Marquis-Breton, co-owners of Sartorialto, have given themselves the mission of offering the ultimate tailor made suit. Here, a custom suit is bespoke, not made-to-measure. [Editor's note: The distinction between bespoke and made-to-measure is that bespoke clothing is traditionally cut from a pattern made from scratch using a client's measurements. In the case of made-to-measure, a standard size pattern is altered to fit the customer's measurements.] The two business partners are proud to offer a unique product that meets the specific needs of each client. As Marc Patrick says, few shopkeepers can boast about having such close personal relationships with their clients. "Just like when you go to the hairdresser, you are at the head of the production line. Our role is to guide the client and enable him to make the best choices when it comes to cut, fabric, and style, while considering how often he plans on wearing the suit and to what kind of occasions. Our clients' career goals and the image they want to project are all aspects that we keep in mind when we create an item of clothing."
As a businessman, Marc Patrick Chevalier discovered his interest for custom made clothing through his inability to find items that fit his physique. "I am 6'3" and I had an extremely difficult time finding clothes that were appropriate for my silhouette. Occasionally, I bought pieces that fit me less well because I felt guilty after monopolizing the sales consultant's time for several hours and trying on every item in the store. When I discovered custom clothing, it was such an obvious concept that I decided to share it with others by starting my own business."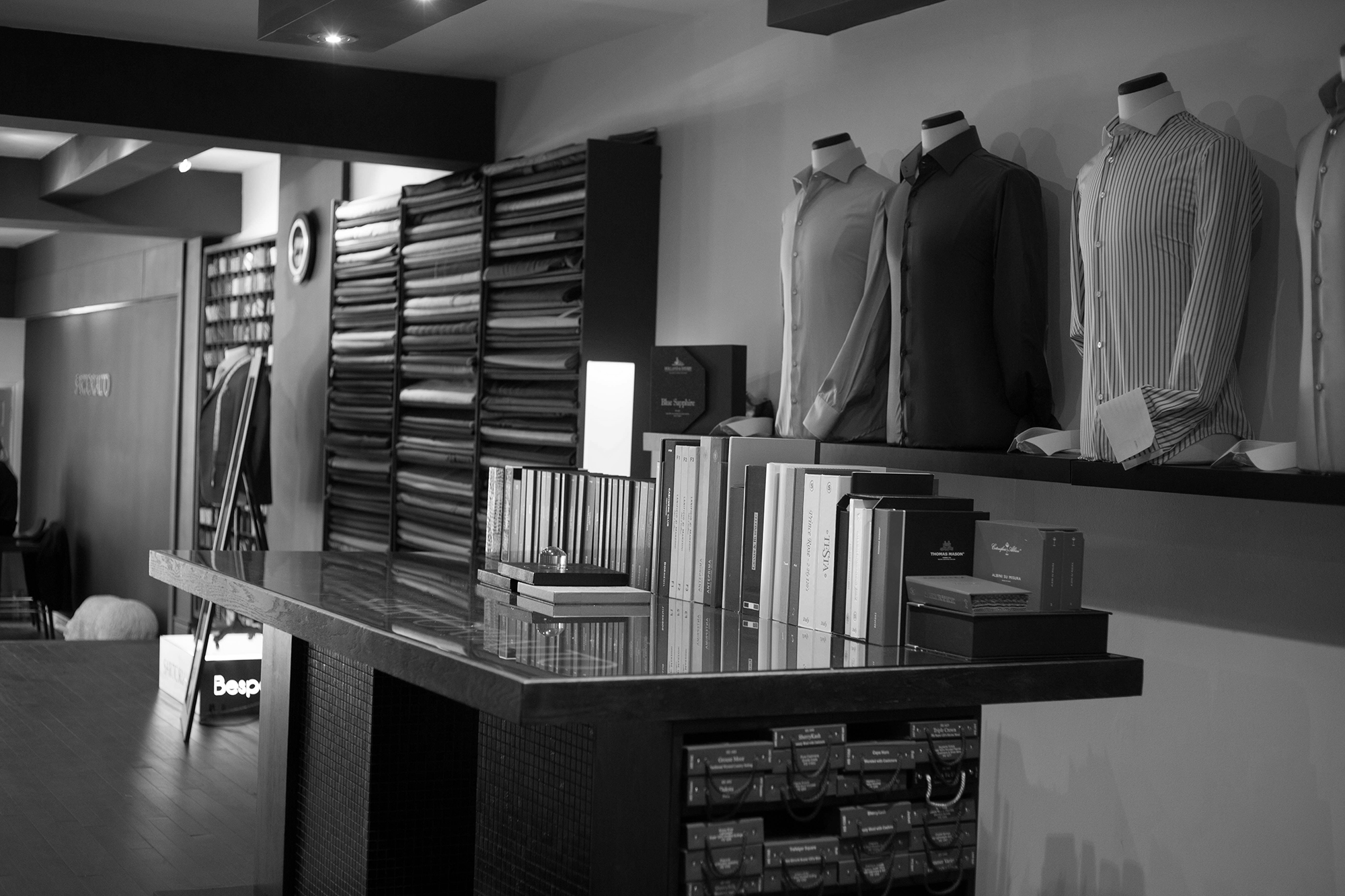 Sartorialto's success is largely based on the expertise of its craftsmen. Nothing is manufactured, everything is crafted in Montreal workshops with high quality fabrics that come mainly from Italy and England. "The businesses that we deal with have been textile workers for more than a hundred years. They use an unrivalled know-how and materials of an impeccable fineness," reminds Marc Patrick.
A suit made by Sartorialto has an average cost of $2,300. Generally, two fitting sessions are required for a standard pattern, sometimes more for very specific body types. You must also factor in three to four weeks for tailoring. The shop also offers tailored shirts, for $289, and custom made shoes for approximately $1,100. According to P.K. Subban of the Montreal Canadiens, they are the most comfortable shoes he's ever worn!
Sartorialto
5025 Papineau Avenue
Montreal, Quebec, H2H 1V9
514-316-6367
www.sartoialto.com
Photographer Erto Isidore
Waxman House
The atmosphere in which I was greeted by William P. Waxman a.k.a. Billy, was decidedly warm and familial. Today the establishment on Park Avenue, founded in 1927 by Wolf (Willi) Waxman, is much more than a simple evening wear rental shop. While that service is still available, the shop also offers a collection of ready-to-wear suits, a made-to-measure suit tailoring service, as well as a barbershop. Through Billy, a third generation of Waxman continues to operate the family business. As a tribute to his father Hershie, Billy also opened an espresso bar, evocative of the time when clients and friends of the Waxman came to the back of the shop to talk and enjoy a coffee with their favorite tailor. I even had the pleasure of meeting Troy, the family dog, a magnificent and affectionate boxer.
With a team of experienced tailors, Billy offers his clientele a well crafted made-to-measure suit, which is entirely fashioned in Montreal with fabrics by Dormeuil. A particular attention will be paid to your style and silhouette, to ensure that you are showcased at your very best. A made-to-measure suit, which usually includes two fitting sessions, is ready in three to four weeks and will cost you around $1,400.
Waxman House
4065 Avenue du Parc
Montreal, Quebec, H2V 4E4
514-845-2664
www.waxman.ca
Photographer Sylvain Blais
Written on: February 3, 2017